Stoke-on-Trent Enson Pottery Works re-open as training centre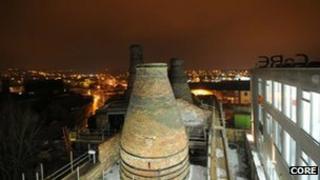 A former Stoke-on-Trent pottery factory has reopened after a £12.5m redevelopment.
The Enson Pottery Works on Chelston Street, Longton, has been converted into a training centre for the construction industry.
The Centre of Refurbishment Excellence is expected to specialise in training for restoration of historic buildings.
An open day has been held at the grade-II listed site for local residents.
Stoke-on-Trent City Council, which owns the site, said the restoration had retained much of the original character of the 1843 factory, including four bottle kilns.
The America Hotel, which is based on the site and where many of the pottery workers used to drink, has also been restored as part of the project.
It was dismantled brick-by-brick after it was found to be unsafe, the city council said.
The building is expected to be used by companies to showcase environmentally-friendly technologies.
Councillor Ruth Rosenau said: "We are lucky that we still have such prominent buildings that showcase beautifully the city's past, as well as representing the present and our aspirations for the future."
The scheme also received grants from the Heritage Lottery Fund, the European Regional Development Fund, the Department for Education and the Coalfields Regeneration Trust.