Stoke-on-Trent food bank 'forced' to ration food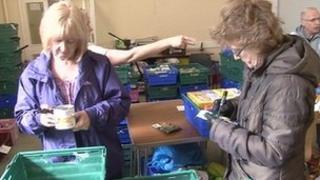 A food bank says it has been forced to ration food after a drop in donations.
Stoke-on-Trent food bank said it was prioritising families with children under the age of 16 and people over the age of 65.
The Reverend Ron Willoughby from the bank said it was a temporary measure and it was working to restock supplies.
"Just before Easter we seemed to hit a slump as far as people giving to the food bank and that has combined with demand going up," he said.
He added: "We've prioritised those two groups because we are aware of a number of places in the city where a single person can go almost every day of the week to get a hot meal.
'Singled out'
"It is more difficult for a parent with children to take them to similar places in the city."
The food bank, which is based at Wesley Hall Methodist Church in Noblett Road and is backed by the Trussell Trust, which runs a network of food banks.
Since opening in May last year, it said it had helped feed more than 7,000 people.
Unemployed Rebecca Kendall, 21, from Hanley has been using it for the past three months.
She said: "It is a struggle to afford to keep feeding yourself and although families need it more, people like me shouldn't be singled out.
"I'm hoping that I can go to other places like the YMCA and find help there."