Empty Wedgwood Memorial College costs council £160k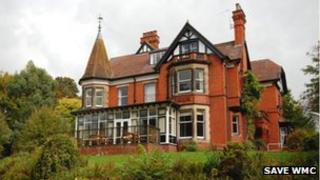 Stoke-on-Trent City Council spent nearly £160,000 on a college building it closed last year to save money.
More than half of the money spent on Wedgwood Memorial College went on security staff, figures from a freedom of information request show.
The request was made by campaigners who want the property to be released from local authority control and reopened.
The council plans to develop the site and reuse some buildings and said it was keeping them in a "good condition".
The figures, provided by the council to Karen Carlin from the Save Wedgwood Memorial College group, include more than £98,000 which was spent on security and nearly £27,000 on voluntary redundancy packages.
The cost of aerial imagery to help market the site to potential developers was £141.
Ms Carlin said "the budget proposals suggested the council would save £28,000" when the college, which had been used for adult learning courses as well as weddings and conferences, closed on 1 April 2012.
'Cost-effective enterprise'
She said: "£158,000 would have employed six people to be actively working there.
"The college as a whole costs in the region of £250,000 a year to run at full capacity but much of what it did was self funded and cost effective and that could have continued.
"The college needs to come out of city council control. That way it stands a better chance of being a cost-effective enterprise."
The city council said it was working with Staffordshire County Council to bring the site forward for development.
A statement from the authority said: "The development proposals and plans will include a mix of new development and re-use of existing buildings.
"To enable the buildings to be re-used and to ensure that the buildings are in good condition so that they are of interest to future owners and developers, we have ensured that the appropriate security measures are in place."