Molson Coors brewery workers vote to strike over contracts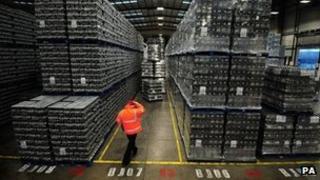 Workers at a Staffordshire brewery have voted to go on strike in a row over pay and working conditions.
The Unite union said 97% of its 350 members at Molson Coors in Burton-upon-Trent voted for industrial action amid proposed changes to staff contracts.
The union claims the company wants to cut some workers' pay by £9,000 a year.
Molston Coors said it was still in talks with the union to find a "solution that is fair to employees" to avoid strike action.
Rick Coyle from Unite said no strike dates had yet been set.
He said: "We've been in intense negotiations with the company and we're making good progress.
"We've had a really overwhelming vote in favour of strike action but as a gesture of good faith for the negotiations we are not issuing any strike dates."
Molson Coors produces Carling, Grolsch and Cobra lagers, as well as beers including Worthington.
A statement for the firm said it had to make changes to staff contracts in what was "a declining beer industry and challenging economic environment".
"We are concentrating on the negotiations with Unite, which so far have been productive," it said.
"We remain optimistic that with the union we can reach a solution that is fair to our employees, and that delivers a sustainable future for Burton brewery."