'Drunk' BBC Radio Stoke presenter Paula White apologises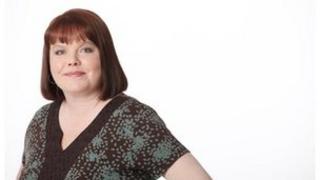 A BBC Radio Stoke presenter who was taken off air after appearing to be drunk has apologised to listeners.
Paula White was removed 30 minutes into her afternoon programme on 10 May, which was her last show in that slot.
On the station's breakfast show on Thursday she told listeners she was sorry for her "behaviour and performance" on the show.
"After six-and-a-half years... it was a terrible error of judgment to go on air that day," she said.
Ms White added: "The past few months have been difficult and if you're a regular to my show, you'll know I tend to wear my heart on my sleeve but that day, in hindsight, I should not have sat down to do the show.
'Drawn a line'
"I've caused a great deal of embarrassment to my family, friends and colleagues and I'd like to apologise to them."
Ms White also thanked listeners for their support.
The BBC confirmed she would be returning to air on BBC Radio Stoke's Saturday mid-morning show "in the near future".
A spokesman for the corporation said: "Paula White has apologised and we have drawn a line under the matter."
Shortly after the start of the show on 10 May, a listener sent in a text to say Ms White sounded drunk.
She said on air that she had had a couple of drinks, but was not drunk.
A BBC spokesman said at the time she had been "unable to continue as she was under par".