Molson Coors brewery workers to vote on improved offer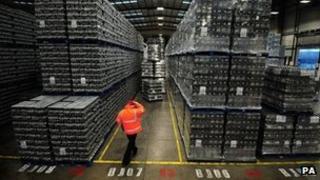 Workers at a Staffordshire brewery are to vote on an improved pay and conditions offer aimed at averting strike action.
The Unite union will ballot its 350 members at Molson Coors in Burton-upon-Trent over the next week.
The union said the majority of them had previously voted for industrial action amid proposed changes to staff contracts.
A company spokesperson said they were confident that a deal could be agreed.
Unite official Rick Coyle said: "Both sides have worked very hard, under the auspices of the conciliation service ACAS, to come up with a package of proposals."
The union has claimed the company wants to cut some workers' pay by £9,000 a year.
Molson Coors produces Carling, Grolsch and Cobra lagers, as well as beers including Worthington.
It has said the changes to staff contracts are in response to "a declining beer industry and challenging economic environment".