Pirelli tyre warehouse demolished for homes development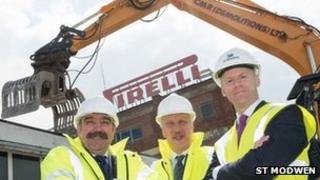 Demolition work has begun on a former tyre warehouse in Staffordshire to make way for a housing development.
More than 300 houses are to be built on the site of the Pirelli high bay building, in Stretton, Burton-upon-Trent by developer St Modwen.
A number of disused buildings on Princess Way will also be knocked down to make way for a hotel and restaurant.
Pirelli said it would continue to operate from its office and factory at the centre of the new development.
The firm said it would also have a new car park as part of the plans.
Ian Romano, from St Modwen, said: "The scheme will deliver good quality homes, leisure facilities and generate several hundred jobs through the construction and completed development."
East Staffordshire Borough Council approved the plans in November.
The project is expected to take about six months, St Modwen said.