Stafford hospital ribbons removed after legal threat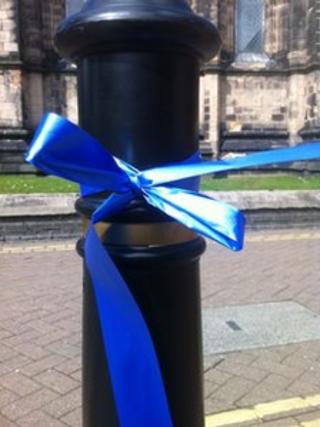 Campaigners have removed hundreds of blue ribbons and signs put up as part of efforts to save hospital services, after threats of prosecution.
Cannock Chase Council emailed the Support Stafford Hospital group stating it had broken planning laws and could face legal action.
The items were tied to lampposts and trees in Cannock town centre.
The council later said the email should not have been sent and a staff member had "overstepped the mark".
The Support Stafford Hospital group is campaigning to save services at the Mid Staffordshire NHS Trust, which runs both Stafford and Cannock Chase hospitals.
The trust is currently being run by Trust Special Administrators, who will publish plans for its future in June.
Campaigners attached ribbons and signs to lampposts, bollards and trees in both Cannock and Stafford town centres to highlight their campaign.
Cheryl Porter, from the Support Stafford Hospital group, said the day after receiving the email they went round and removed them all.
She said Stafford Borough Council had not objected to them, but they took those down too, "just in case."
'Bad practice'
She said: "We were really upset when we got the email.
"To send a message and not contact us personally is just bad practice really.
"We know there are rules and regulations but in something like this when we're trying to make people aware of what the towns could be losing, it's disappointing."
The Conservative MP for Cannock, Aiden Burley said the threat of legal action was hypocritical.
"On the one hand you've got the leader of the council going on the march to save the hospitals and, in the meantime, the council he's running is threatening legal action against those very protesters," he said.
In a statement, Cannock Chase council said it had "absolutely no intention to prosecute the campaigners".
A spokesman for the authority said: "In this instance a member of staff has overstepped the mark in enforcing planning legislation and we apologise for any distress this has caused.
"We would stress that the council supports the campaign and we are looking to collaborate with the campaign organisers to manage the way they promote the campaign in the future."
The Mid Staffordshire NHS Foundation Trust was the first foundation trust to be put in to administration.
It followed years of inquiries into the standards of care at Stafford Hospital, after concerns over higher than expected death rates.