Car park plans for old Stoke-on-Trent bus station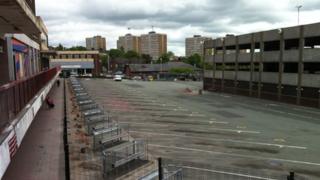 An old bus station in Stoke-on-Trent could become a temporary car park.
The station on Lichfield Street, Hanley, is due to be demolished after the new £15m bus terminal opened on John Street in March.
The old station site has been earmarked for the building of the new £350m City Sentral shopping centre.
The city council said while that planning application was in the pipeline it wanted to put in the temporary car park to make money.
A planning application had been submitted to put in "temporary surface level car parking" on the site, the authority said.
'Moving forward'
It said as part of the plans, the former Birch Terrace car park would also be demolished to create more surface parking.
Despite the car park proposal, developer Realis Estates insisted they were "moving forward" with plans to build the City Sentral shopping mall by 2015.
Its managing director, Duncan Mathieson, said they had already made "fantastic progress on leasing, even in this very difficult economic environment".
"Local people will have seen that fencing has been erected around the old bus station to make it safe ahead of demolition and hoardings will be installed shortly.
"I am as eager anyone to get a spade in the ground as soon as we possibly can."