Stafford Hospital administrators ask for more time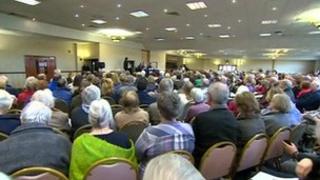 Administrators running Stafford Hospital have asked for more time to plan the future of its services.
The Mid Staffordshire NHS Trust went into administration on 16 April after a report concluded it was not "clinically or financially sustainable".
Trust Special Administrators (TSA) were initially given 45 days to design new patient services but have asked health regulator Monitor for 30 more days.
Monitor said it would make a decision on the request by Wednesday.
The trust also runs Cannock Chase hospital.
Administrators were due to publish their plans for the future of services on 19 June.
Alan Bloom, from the TSA, said: "We have made a lot of progress, in a short space of time... but we need more time to continue our discussions with other health providers and commissioners.
"It would be a disservice to the people served by Stafford and Cannock Chase hospitals and staff to not request the additional time."
'Fundamentally flawed'
Mr Bloom said he regretted the uncertainty that a delay would create, as staff and local people were "keen to know what the future holds".
The TSA have also asked for 10 extra days for the public consultation, which was due to last 30 days.
They have already cancelled a number of public meetings.
Monitor said its board would meet as soon as possible to consider the request for extra time.
It said, if granted, it would present papers for the new timetable in Parliament by Wednesday.
The Support Stafford Hospital campaign group said it was "surprised at the timing" of the administrators' announcement.
Sue Hawkins from the group said: "This further undermines our confidence in the process and we have to ask if it is fundamentally flawed."
"The community from the onset has raised serious concerns about the restricted timetable... if this extension is granted we hope that this will enable them to reach the right decision for our communities. "
The trust, which was at the centre of the public inquiry led by Robert Francis QC into poor standards of care, was the first NHS foundation trust to be put into administration.