Stafford Hospital services 'must be kept'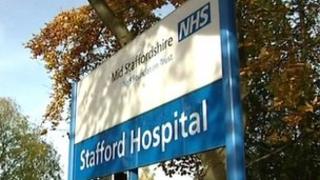 Ministers have been urged to ensure Stafford Hospital's services are not downgraded in the future.
The Mid Staffordshire NHS Trust, which runs the hospital, went into administration on 16 April.
Stone MP Bill Cash told a special adjournment debate at the House of Commons the NHS could "stand or fall" on the future of Stafford Hospital.
He said it should be given an opportunity to prove itself to establish that the NHS works properly.
The Trust Special Administrators (TSA) are expected to publish a draft report into the future of Stafford Hospital's services by 31 July.
Proposals being discussed include closing some services at the hospital, including its maternity and paediatric wards, along with its accident and emergency department, which has been shut overnight for the past few months.
Mr Cash said Stafford Hospital should be allowed to keep its emergency and acute services.
He said: "I simply ask the Government and ask the minister to make certain that Stafford Hospital is given the treatment and given the opportunity, not only to prove itself, but to prove that the NHS can work properly."
Health Minister Dan Poulter told the Commons that local MPs, healthcare providers and clinical commissioning groups would be consulted on any decisions over the hospital's future.
But he added that the government could not "dictate" what happened as the administrators must make their decisions without political interference.