Stoke City Council criticised over major event running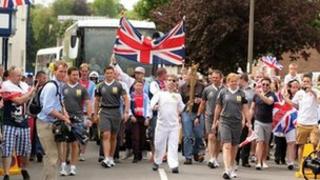 Auditors have criticised the way Stoke-on-Trent City Council has been running major events.
The council has organised the local leg of the Tour of Britain cycle race, the Olympic Torch relay and music concerts.
An internal report said public safety may have been at risk through a lack of planning and criticised the way contracts were awarded.
The council said it had responded to the report, changed management and was "on the way to addressing the issues".
The report was obtained after a Freedom of Information request by former councillor Mike Barnes.
He has published the full report on his Potteries Eye website.
The council's auditors said it was not properly monitoring whether health and safety obligations at major events were being delivered.
There was supposed to be a special group of all the relevant local authorities to oversee health and safety obligations, but at the time the report was written it did not exist.
New management
The report did say all the the events organised by the council had been successful.
The auditors raised bigger concerns over the way contracts for roles such as event organisers and suppliers were handed out.
When the council hands out contracts over a certain value, it is supposed to hold a tendering exercise, in which rival companies bid to do the work.
When these auditors conducted tests, they found out that in a number of cases this was not happening, which broke a number of financial regulations and contract rules.
The report also said some events did not have business plans to work out how much they would cost.
Auditors said the council had failed to properly monitor the way money was spent.
It picked out the example of the 2011 Live concert, the costs for which were still being agreed a year later, in August 2012.
Alison Knight, from Stoke-on-Trent City Council, said an action plan had been created to respond to the findings and more audit work was currently under way, the findings of which would be reported "in due course".
"These actions are now in place and the team is under different management - we are well on the way to addressing the issues," she said.