Stafford Hospital: MP takes petition signed by 50,000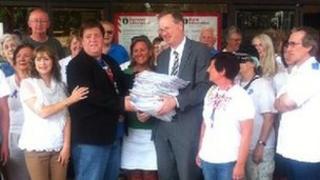 A Save Stafford Hospital petition containing 50,000 signatures is on its way to the government.
Campaigners from Support Stafford Hospital handed the petition to Conservative MP for Stafford Jeremy Lefroy earlier.
Mr Lefroy will present the petition to the speaker of the House of Commons in Westminster on Tuesday.
An administrators' report into the future of Stafford Hospital's services is expected by 31 July.
The Mid Staffordshire NHS Trust, which runs Stafford Hospital, went into administration on 16 April.
A Monitor report published in February called for the closure of the hospital's acute services, including the A&E department.
"I think this petition is a real additional point to the government - it underlines the strength of local feeling", Mr Lefroy said.
'Very worried'
Diana Smith, from Support Stafford Hospital, said: "The people of Stafford are saying very clearly that our hospital and our services matter very much to us.
"We're not against change. We're fully aware that there are things which need to be done differently because of the huge challenges ahead for the health service.
"But we do feel this needs to be done as an open question because this is going to affect the whole of the NHS, not just Stafford."
Cheryl Porter, also from Support Stafford Hospital, said campaigners were "passionate" and "very worried".
Last week Health Minister Dan Poulter told the Commons that local MPs, healthcare providers and clinical commissioning groups would be consulted on any decisions over the hospital's future.
The government could not dictate what happened, as the administrators must make their decisions without political interference, he added.