Antonio Gragnani violin could fetch £35K at Nantwich auction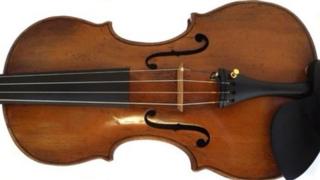 A rare violin dating back to the mid-18th Century is expected to fetch up to £35,000 at auction.
The instrument, made by Antonio Gragnani, is going under the hammer at Peter Wilson Fine Art Auctioneers Ltd in Nantwich later.
Chris Large from the auctioneers said it dated back to 1763. He has valued it at between £25,000 and £35,000.
Mr Large said: "According to the original receipt, the instrument cost its owner £115 in 1917."
It has remained in the owner's family ever since.
"Dating violins is an exact science nowadays," Mr Large said.
"A dendrochronological report carried out on the instrument has confirmed the age of the wood it is made from to be mid-18th century, while a recently obtained certificate of authenticity from a leading expert dates it more precisely to 1763."
The auction house said the current auction record for a Gragnani violin, which was set at Sotheby's last year, is £48,000.