JCB hub creates 300 new jobs in Newcastle-under-Lyme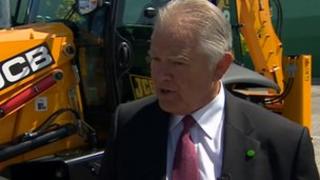 Construction equipment manufacturer JCB is creating 300 jobs in Newcastle-under-Lyme.
Work is under way at the Chatterley Valley distribution site next to the A500 where it is hoped 60 people will be employed by the end of the year.
JCB is using about £3m from the government's Regional Growth Fund to help fund the jobs and training programmes on the site.
It will be the main depot for supplier-bought parts used in JCB manufacturing.
The depot will serve JCB's 11 UK plants as well as its compaction equipment factory in Germany and the company's newest plant in Brazil.
Investor confidence
The firm's chief executive, Alan Blake, said: "Staffordshire is where JCB's business started nearly 68 years ago and... this site offers some huge advantages, particularly with transport links to the A500 and M6."
It is hoped the new hub will benefit local businesses who could supply parts to JCB, said Gareth Snell, leader of Newcastle-under-Lyme Borough Council.
He said: "It's brilliant news for the borough…. Having a well-known quality brand like JCB active in the borough can only be good for investor confidence."
In April the Rocester-based firm recorded its largest ever profit of £365m for 2012, up £10m on the previous year.
A spokesperson for JCB said there were more than 5,500 people working for the firm in Staffordshire.
The leader of Newcastle Borough Council, Gareth Snell, has called it "brilliant news" for the area.