PCC Matthew Ellis plans will 'help crime victims' in Staffordshire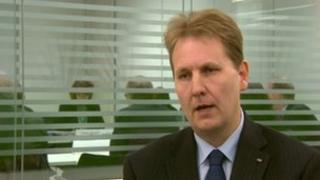 Plans for a new service to support victims of crime in Staffordshire have been unveiled by the county's Police and Crime Commissioner.
It is part of Matthew Ellis' five-year strategy for the future of policing.
He also wants to introduce an online system where people can keep track of the progress of their own cases once they report a crime.
He said: "This is about fitting the system around people rather than people being expected to fit the system."
Mr Ellis plans to launch the Staffordshire Victim and Witness Support Service later this year, claiming the current system "can be just as traumatic as the original incident".
"There are parts of the system that work well and some that work appallingly badly but overall it is not a good experience for far too many people that find themselves involved in cases," he said.
He said he hoped the new service would see better "joined-up working" between the police, the Crown Prosecution Service and victim support charities.
A seven-week public consultation on the plans has started.