Wedding album returned to couple after more than 50 years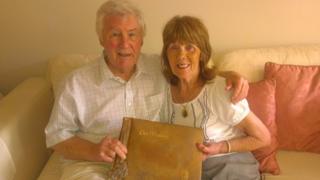 A couple have been reunited with their album of wedding photographs, which had been missing for more than 50 years, after it was found in a rubbish skip.
Patrick and Rose Roach, from Newcastle-Under-Lyme, Staffordshire, said they thought photos of their marriage in Birmingham in 1952 were lost forever.
The album was saved from a skip at a steelworks by builder Tom Bradley.
It was returned to the couple after they saw a newspaper appeal by Mr Bradley's daughter.
Mr and Mrs Roach, who met when they were 17, were married at Hall Green Parish Church on 28 June 1952.
Mr Roach, 84, said they had moved home many times since leaving Hall Green in the 1960s and did not know exactly when the album had gone missing.
"It's a miracle to have it back," he said.
"Looking through it and seeing all those people, so many of them have passed on, it brings a tear to your eye as well as remembering the happy occasion."
'Sweet mystery'
Mrs Roach, 85, said she was "overwhelmed" to have the album back.
"We can't believe how the photographs have stayed in such a good condition and so clear."
"How we managed to lose the album is one of life's sweet mysteries. We don't know how it came to be in a skip."
The couple said the album was discovered in a shed by Tina Bradley as she cleared out her parents' home in Birmingham.
Her father Tom had found it in a skip at a steel metal company, Saville Gordon, in Tyseley, a number of years before.
He had intended to find the couple who featured in it.
Following his death last month, Tina put the appeal in the Birmingham Mail which was seen by the daughter of one of the Roach's bridesmaids.
"We can't thank the woman [who found it] enough. We're so touched by the effort she made to track us down," Mrs Roach said.