Derelict Stoke-on-Trent homes are being offered for £1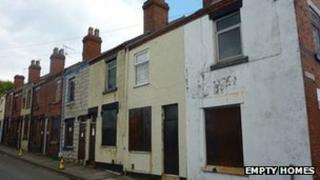 Ten families are being offered the chance to live in homes in Stoke-on-Trent for just £1 up-front payment.
In a new scheme, applicants can buy a 25% stake in a derelict house in Harper Street, Middleport, for £1.
The remaining 75% of the two-bedroom terraced houses will be owned by a housing association which will renovate them.
Residents will pay a below market rent of approximately £75 per week and have the opportunity to buy further shares.
Open to all
Empty Homes, a charity working on the scheme, said: "The houses are brick built two-bedroom terraced houses, built in approximately 1900.
"They are currently empty and require internal and external works before they are habitable."
The charity said the houses are next to the Middleport pottery, which is currently being renovated by the Princes Regeneration Trust.
This latest attempt to revamp the derelict houses in Stoke-on-Trent differs slightly to earlier schemes in that it is open to people living anywhere in the country who does not already own a property, as long as employment status and other criteria are met.
When Stoke-on-Trent City Council offered derelict homes for sale at £1 each in May only residents who had lived in the city for three years qualified to apply.
A total of 75 people applied to buy the 35 two and three-bedroom houses.