Petition taken to Downing Street over Timbersbrook Project possible closure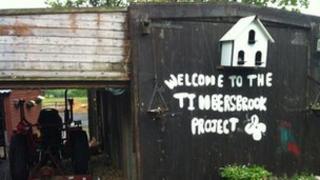 A petition, signed by more than 5,000 people, has been delivered to Downing Street against the possible closure of an animal park in Cheshire.
Last month, a judge ordered the owners of the Timbersbrook Project near Congleton to demolish unauthorised buildings and structures.
Cheshire East council said it was an "unacceptable" greenbelt development.
Owner Leo Deen said the park had no big buildings and that they were necessary to provide shelter for animals.
The local authority, however, said Mr Deen was in "breach of an enforcement notice relating to an unauthorised change of use of land from agricultural use to recreational and educational use in the greenbelt".
Royal support
The park, which includes a wild meadow and about 200 animals, is visited by school children and is backed by local businesses.
Mr Deen, who bought the land in 2003, said planning permission problems had been on-going for several years and that he had now been asked to take down moveable shelters.
He said: "The council doesn't pay a penny… When you come here, it's free.
"We have schools and they learn about where food comes from... We grow stuff on here, we plant trees… It's eco, we don't have concrete on here at all."
In 2011, the council apologised after a cockerel and five chicks were killed by a stoat while in its care after it seized stock and demolished buildings.
Mr Dean said he had received supporting letters from the Queen and the Prince of Wales.
The park is not currently open to the public.