Newcastle-under-Lyme College submits plans for £4.75m arts centre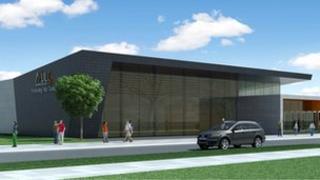 A Staffordshire college has submitted plans to redevelop the site of a former fire station site into a performing arts centre.
The Newcastle-under-Lyme College (NULC) plans to redevelop the former Newcastle Fire Station on Knutton Lane to accommodate a new £4.75m complex.
The college said it could then cater for more students and staff.
Subject to planning consent by Newcastle-under-Lyme Borough Council, it would be completed by August 2014.
A college spokesperson said the performing arts centre would allow the college to extend its curriculum provision and increase the range of courses available.
Karen Dobson, principal and chief executive at NULC said: "The new facility will be an inspirational and practical learning hub for young people who are interested in the arts and entertainment industry.
"The centre will feature high technology theatre equipment and provide outstanding opportunities, which in turn will raise the aspirations of young people."
The college plans for 100 additional students in the first year, expanding to 200 in the second year, with additional jobs being created.