Misconduct ruling for Stafford nurses over waiting times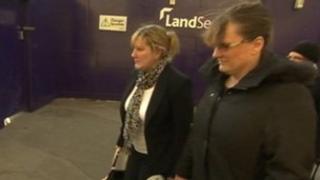 Two Stafford Hospital nurses who falsified A&E discharge times have been found to have brought their profession into serious disrepute.
The Nursing and Midwifery Council panel said that by making it seem like they had met their four-hour target times, Sharon Turner and Tracey-Ann White's actions had constituted misconduct.
The inaccurate recording took place between 2000 and 2010.
The panel is now considering what sanctions to impose.
It could include striking the nurses off the medical register or suspending them from work.
The panel also found the fitness to practise of Turner was "impaired" after she used abusive language about patients.
It said she also made racially-motivated comments about doctors at the trust.
It also ruled that White refused to help a senior nurse undress an elderly patient and called her a "naughty little monkey" for not taking drugs to treat constipation.
Both nurses, who denied all allegations, faced a series of charges of misconduct for actions between December 2003 and October 2009 in Turner's case and between July 2000 and July 2010 in White's case.
White is still employed by the Mid Staffordshire NHS Trust. Turner left in September 2009.
The trust was at the centre of a public inquiry after it was found poor care could have led to the deaths of hundreds of patients as a result of maltreatment and neglect.