Men guilty of Staffordshire nail bombing plot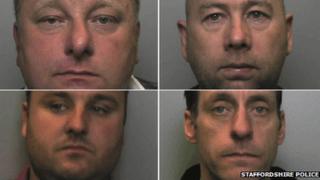 Four men have been found guilty of causing a series of nail bomb explosions at houses in Staffordshire.
Three bombs exploded at homes in Blythe Bridge, Cheadle and Weston Coyney on 3 August, causing minimal damage.
Jason Taft, 42, from Bagnall, and Kevin Proctor, 44, both from Stoke-on-Trent, Thomas Leslie, 35, from Belfast and Martin Drewery, 43, from the Staffordshire Moorlands, were convicted at Stafford Crown Court.
They will be sentenced on Wednesday.
Taft, of Greenfields Farm, Stoke-on-Trent, and Leslie, of Crumlin Road, Belfast, were also found guilty of making threats to kill.
Proctor, of Edge View Road, Stoke-on-Trent and Drewery, of Sandy Lane, Brown Edge, were cleared of making threats to kill.
Andrew Boal, 32, from Ballygowan, Newtonards, County Down, was found guilty of making threats to kill but cleared of conspiracy to cause explosions.
The court heard they targeted workers linked to a local businessman in a dispute over money.
Series of bangs
During the trial, the prosecution claimed Taft recruited the other men to help build the bombs at a barn on his farm.
The jury heard the first explosion went off at 21:49 on 3 August in St Peters Lane, at the home of Warren Barlow.
There were eight people in the house at the time, including Mr Barlow's wife and two grandchildren, one of whom was only five months old, the court heard.
The car then drove to the home of Daniel Middleton in Cheadle, where another bomb was set off, the court heard.
Mr Middleton, who was at home with his partner and three children, heard a series of bangs which he thought was a firework, the jury heard.
The court was shown CCTV footage of the car travelling to a third house in Weston Coyney, which was the home of Jarred Moore, who was a co-director of Algmet.
The jury heard Mr Moore was not at home at the time of the explosion, but two neighbours heard a very large bang and saw someone running back to a car, before it drove off.
No one has been charged with planting the bombs.