Stafford Hospital nursing director Colin Ovington gets new job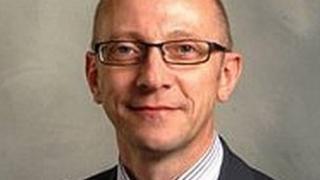 The director of nursing at Stafford Hospital is to leave and take up a similar role at another hospital trust.
Colin Ovington has been announced as the new chief nurse of Sandwell and West Birmingham Hospitals NHS Trust.
He was recruited in 2010 to help improve quality of care at Mid Staffordshire NHS Foundation Trust.
The announcement comes a day before the publication of a report by trust special administrators into the future of services at Stafford Hospital.
Mr Ovington is expecting to take up his new post later this year, Sandwell and West Birmingham Hospitals NHS Trust said.
A spokesman for the trust said he was appointed for his "impressive work on safety and compassion in his time in Stafford."
The trust runs Sandwell Hospital and City Hospital in Birmingham.
The Mid Staffordshire NHS Trust went into administration on 16 April after a report concluded it was not "clinically or financially sustainable".
The administrators draft report on its future will be published on Wednesday.