Lack of 'suitable' applicants for Stoke-on-Trent £1 homes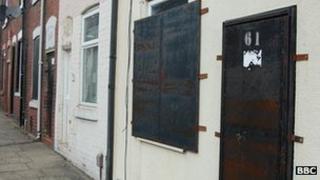 The criteria to buy one of Stoke-on-Trent's £1 homes has been relaxed after a lack of "suitable applicants".
The city council said 600 people had applied for the offer but fewer than 35 were deemed suitable.
Current guidelines mean applicants must live in the area and not earn a joint income of more than £30,000 to qualify.
Under the new rules, applicants who work in the city but don't live there will be considered, as long as their family income is less than £40,000.
Out of an initial 600 applicants for the 35 homes on Portland Street, Stoke-on-Trent, very few were found to be suitable, the authority said.
'Strict criteria'
Council spokesman Jeremy Herbert said: "After sifting through the applications to those who fell within the criteria, we were only left with 75.
"But after credit checks, lack of proof of income, etc, we were left with less than 35, which is a lack of suitable applicants.
"In a sense, it was quite a strict criteria, so we have decided to extend the scheme and invite applications from people who don't live here, but do work here.
"These people make a major contribution to the area, and it is only fair that they should be allowed to apply."
After making the £1 up-front payment, the successful owners will be offered a £30,000 loan to allow them to make essential repairs, although the money would need to be repaid within 10 years.
New applicants have until 23 August to submit their applications.