Stoke-on-Trent hospital 'would cope' with Stafford changes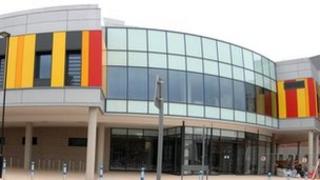 Doctors in Stoke-on-Trent are insisting the city's hospital will be able to cope if services are moved there from Stafford Hospital.
Births, child inpatient admission and hip fracture treatment were among services recommended by administrators to go to the University Hospital of North Staffordshire [UHNS].
They also recommended dissolving Stafford's Mid Staffordshire NHS Trust.
UHNS chief nurse Liz Rix said its maternity centre had capacity to grow.
She said: "I know this unit has got capacity to expand the number of mothers we take here.
"We'll work with the Trust Special Administrators [TSA] to see what that means for us."
Critical care
About 5,800 babies are born every year at the centre, which has 230 midwives.
Under the plans, no babies would be born at Stafford Hospital so about 1,800 mothers-to-be would travel to Stoke-on-Trent or to other hospitals.
The proposals also include downgrading Stafford's critical care unit and losing some emergency surgery.
TSAs announced the recommendations on Wednesday for Stafford Hospital to be part of UHNS, with Cannock Hospital becoming part of the Royal Wolverhampton Trust, after the Mid Staffordshire trust went into administration on 16 April.
Chris Bourne, lead steward for the Royal College of Nursing at UHNS, said: "We have been told the hospital will receive £70m to increase capacity for maternity services and critical care services displaced from Stafford.
"But my concern is that if this is one-off capital spending and not a year-on-year investment will the increased staffing levels that are needed be affordable?
"With UHNS currently forecasting a £30m deficit this year and already looking at possible job losses, we need to be assured that the resources will be sufficient to meet demand."
The proposals also include keeping Stafford's accident and emergency department, which will continue to open from 08:00 to 22:00, as it has since December 2011.
Accident and emergency at UHNS deals with 120,000 patients a year.
'Enough beds'
Its A&E clinical director, Dr Magnus Harrison, said: "We're going to have a single consultant team running two hospital emergency departments which is going to require an expansion in consultant numbers.
"We're going to have to recruit those consultants so initially there's going to be a shortfall in consultant numbers."
Asked about the impact on patient care, he added: "I've discussed it with my team here and at the moment they're all quite happy to work a little bit extra to enable us to do it."
UHNS chief executive Mark Hackett said: "There will be substantial capital developments on the Stoke site that we're proposing in order to ensure we've got enough beds and facilities to take the services that are transferred from Stafford before they come."
Ian Syme, from campaign group North Staffs Healthwatch, claimed the pressures would be "greater" on UHNS because they would be "doing more work".
He said: "[UHNS] serves a population of 700,000.
"We want continual improvement there, not a dilution of the service, a continual improvement for the services for the local people. The eye must not be taken off the ball as they are dealing with the Stafford situation."