Alton Towers Smiler ride shut for second time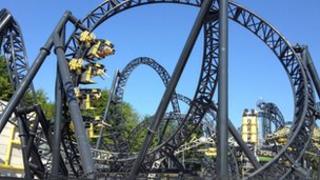 A new £18m rollercoaster ride at Alton Towers has been closed for the second time in the past fortnight.
The 14-loop Smiler was shut for four days from 21 July after a piece fell off the track and 48 people had to be rescued.
The amusement park said the ride was closed again on Tuesday due to a "technical issue".
The ride, which opened in in May and includes a drop of 30m (98ft), reopened on Sunday morning.