Longest-serving Staffordshire firefighter retires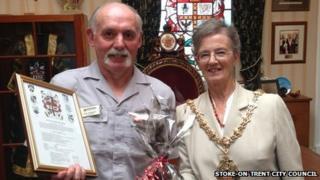 A firefighter who trained to follow in his father's footsteps is retiring after 47 years of service.
Staffordshire Fire and Rescue service said Chris Thompson was the longest-serving firefighter in its history.
The average length of service for Staffordshire firefighters is 30 years.
The 63-year-old joined the fire service straight from school in Stoke-on-Trent, at the age of 16, and said over the years it "fulfilled what he'd hoped for as a child".
'Demanding time'
Mr Thompson said his father had been a retained firefighter as part of the same fire service and that he had always wanted to follow the same path.
He said one particular year in his firefighting history stood out.
"[During] the red-hot summer of '76, there were eight to 10 weeks in the fire service when we were fighting grass fires, woodlands fires, forest fires almost every day," he said.
"It was a very demanding time."
He spent 21 years as an operational firefighter and 24 years as a fire safety officer.
Mr Thompson's contract ends on 31 August, exactly 47 years to the day his service began in 1966.
The fire service said the firefighter with the next closest length of service had been with Staffordshire for 44 years.
To mark his retirement, Stoke-on-Trent Lord Mayor Sheila Pitt presented him with gifts and said he had "made a tremendous contribution to Stoke-on-Trent and Staffordshire".
Mr Thompson said he planned to spend his retirement following Stoke City Football Club and "keeping fit".