Stoke-on-Trent's problems 'down to moaning'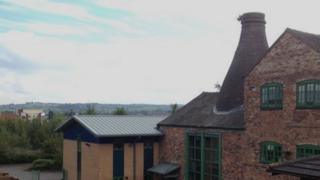 Stoke-on-Trent struggles to attract investors because its residents, media and MPs complain too much about the city, the council chief executive said.
John Van De Laarschot said too many people focussed on things in the past.
He had been responding to criticism the council took too long to publish a report saying there had been probable "fraudulent activity" at the authority.
Staffordshire University professor Mick Temple said it was "a bit rich" for Mr Van De Laarschot make those comments.
However, he agreed there was a culture of "being down on the city".
Mr Van De Laarschot said: "Would you go and live somewhere where you thought everything was pretty successful, pretty positive and pretty friendly, or would you go somewhere where actually everyone complains about it, saying it's a bit of a dump?
"You would probably pick to go somewhere nice. Our challenge is changing that perception of this great city of ours so that people want to come here."
'High horse'
He added: "The problem we've got here in this city is that we've got a 'continual look backwards and let's continually focus on the problems of the past' rather than focus on the future."
Earlier this week the report by the Department for Communities and Local Government auditors, released to the BBC under the Freedom of Information Act, said there were "serious systemic failings" in the management of a project started to increase business growth in North Staffordshire.
Mr Van De Laarschot, who was not in charge at the time the report relates to, said he "did not condone" anything mentioned in it but that people had to stop "harking back to things that happened five or six years ago".
Prof Temple, an expert in politics at the university, said the comments were "a bit rich really".
He added: "His response was to get on his high horse and start accusing people and implying that five years ago was back in the mists of time."
Prof Temple said the chief executive was "certainly right that we need to be proud of what we've got in Stoke-on-Trent".
He added: "But people here are not stupid - they look around the city and they can see some improvements but we're still looking at a city, which compared to many British modern cities, lacks modern shopping facilities, for example.
"They look at the city centre, they look at the new bus station which already seems too small - and some people say is in the wrong place, they look at the movement of a perfectly decent civic centre from Stoke - and the massive expense which it's going to cost - to Hanley, and they ask, how is this city being run?"
City council leader Mohammed Pervez said he accepted there were a "small minority of people who can be negative".
He added: "But as leaders we have to rise above that and look to the vast majority of people who are very proud of Stoke-on-Trent."