Some Staffordshire day centres 'will probably close'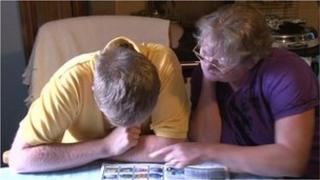 Some day centres for people with learning disabilities will probably have to close, a councillor has said.
Staffordshire County Council has started a consultation into the future of the centres, saying the numbers of people using them had fallen.
Robbie Marshall, the cabinet member responsible, said no decision had been made but he was "sure some will close".
He said in many cases "better options" could be found than putting people in the centres each day.
Mr Marshall said the council ran a total of eight "larger" centres in each of its districts and several other "smaller satellite" centres, some of which were rented by the council.
'Explore possibilities'
He said: "Most of the time there are better options available rather than going into a day care centre and staying there. But there are some situations where that is the best option.
"That is exactly the reason why we're having this consultation - we want to explore all the possibilities."
Pauline Hall, from Longnor, in the Staffordshire Moorlands, said her local day care centre in Leek was essential for her 32-year-son Daniel, who has severe behavioural problems.
She said : "When they aren't in a structured environment with the same people day-in-day out, that's when the behavioural problems start."
She added she believed the council had deliberately been discouraging people from going to certain centres to ensure they fell in popularity, something Mr Marshall denied.
The consultation will close on 14 November.