Stafford Hospital prosecuted over Gillian Astbury death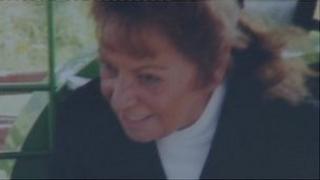 Mid Staffordshire NHS Trust is to be prosecuted over a patient who died after entering a diabetic coma, the Health and Safety Executive has said.
Gillian Astbury, 66, died at Stafford Hospital in April 2007 when two nurses did not spot she needed insulin.
A Nursing and Midwifery Council panel found Ann King and Jeannette Coulson guilty of misconduct.
Trust chief executive Maggie Oldham apologised for the "appalling care" Mrs Astbury received.
'Downright furious'
Peter Galsworthy from the Health and Safety Executive said the hospital would be prosecuted under the Health and Safety at Work Act.
He said: "The immediate cause of death was the failure to administer insulin to a known, diabetic patient.
"Our case alleges that the trust failed to devise, implement or properly manage structured and effective systems of communication for sharing patient information, including in relation to shift handovers and record-keeping."
The first hearing will be at Stafford Magistrates' Court on 9 October.
Speaking in 2010, Mrs Astbury's friend and full-time carer Ron Street said: "I am downright furious. I could not believe [her diabetes] was missed".
Catherine Beeson, Mrs Astbury's daughter, said: "I was shocked to get that call that evening. I was disbelieving.
"How could they miss she needed insulin? It's just basic care."
Continuing the review
Staffordshire Police said: "We acknowledge the decision of the HSE and their announcement today to charge Mid Staffordshire Foundation Trust.
"Our review of information brought to light by the Francis Inquiry Report has been progressing since the report's publication in February.
"The substantial nature and complex scope of the report, as well as the requirement to liaise with a wide number of stakeholders, means that we are currently continuing with the review.
"We cannot give any further details at this time due to the ongoing criminal investigation by the HSE as we would not wish to prejudice any future decisions."