Stoke-on-Trent bins not emptied for three weeks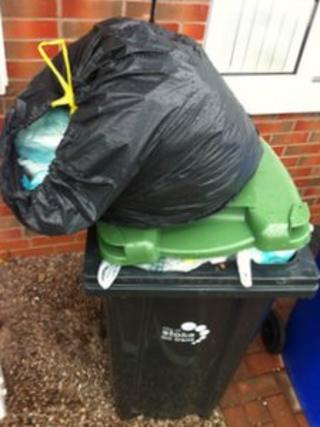 Residents in parts of Stoke-on-Trent say their bins have not been collected for about three weeks after cuts were made to waste collections.
Stoke-on-Trent City Council cut five bin lorries and 24 staff in August as part of plans to save £350,000.
Residents in Chell Heath said bins had become "maggot infested" since their last collection on 19 August.
The council said there had been delays in collections while it "phased in a new timetable for refuse lorries."
About 113,000 homes are part of the changes to waste collection services, which included changes to the routes made by its lorries, the council said.
The authority also changed collection days in a number of areas.
'Disgusting'
Laura Clark, from Warren Road in Chell Heath, said rubbish bags had been piled outside people's houses because they had "run out of room in their wheelie bins."
She said: "There are maggots, hundreds of them. There is no way of getting rid of them, the bins desperately need emptying, it's disgusting.
"We've been told we'll have to wait another week. It's a right mess."
Ian Tamburello, from the city council, said the delays to collections were a result of moving from the old lorry routes to the new timetable.
"We are in this crossover period and we will be back on track by the end of this week. Everyone who is affected will be back on their fortnightly routine by then," he said.
"We feel we've done all that we can to tell people their collection day would be changing. We've issued people with extra bin bags and we will be collecting extra bags to put by the side of bins this week."