Brocton's lost Army 'tribute' excavated after a century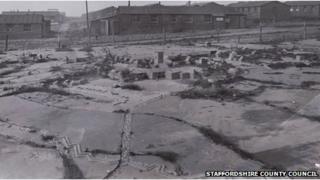 A fragile, detailed replica of a Belgian town devastated during World War I is briefly re-emerging from beneath the earth at Cannock Chase in Staffordshire.
Buried by almost a century of undergrowth, the crumbling streets, shops, homes and churches of Messines look exactly as they did in the aftermath of the Battle of Messines Ridge in June 1917 - with one notable exception.
These buildings and walls are no more than a few inches high.
Miniature, meticulously-crafted hedgerow contours line the recently shelled streets and houses; all serving as a lasting image of a battleground which saw 50,000 men killed.
'Rare glimpse'
Painstakingly built by German prisoners of war under supervision from New Zealand troops, it was intended as both a training aid for frontline soldiers heading to Passchendaele and a lasting tribute to fallen colleagues.
Now the Messines Terrain in Brocton is now offering archaeologists a rare glimpse into part of Staffordshire's history.
Incredibly, 90 years on, the site has been only partly damaged by the tree roots, scrub and wildlife which cover this Area of Outstanding Natural Beauty.
But although the entire 40-square-metre site is now being returned to its original state - by a team of volunteer archaeologists - it will soon be carefully covered over again.
In the brief window when the excavated site is revealed in full, Staffordshire County Council will be using laser-scanning technology to re-create the site as a 3D interactive model that can be explored online.
"It is so much more than just a model for troops to familiarise themselves with battle plans," said Kirsty Nichol, project leader and member of No Man's Land Archaeology Group.
"It was also intended to serve as a tribute to fallen friends in battle.
'Perfect detail'
"It is perfect in every way; every nook and cranny of this Belgian town was recreated by the soldiers who returned from the war. Every cobble, every bombed building and everything from the basements to the rooftops - it really is amazing."
At the time it was built, the Terrain allowed battalions - many of which were based in camps on Cannock Chase - to study Messines in great detail and gave them greater freedom to plot future manoeuvres.
Ms Nichol said: "There were quite a few arguments between the Australian and New Zealand troops over who was responsible for victory in that battle."
The terrain represents the area of Messines captured by the New Zealand troops, she said.
"The returning New Zealand soldiers were sent to Cannock Chase and were living here for months. It was then that they helped build this phenomenal structure," she added.
"The level of detail is amazing; you can see the trenches, even the contours of hedges and trees. Streets are built from separate stones to the pavements; it is a complete, detailed town, not just a general indication of the town's features."
'Preserved forever'
Stephen Dean, Staffordshire County Council's archaeologist, said the authority's involvement will allow the scaled-down town to be explored by future generations.
"Cannock Chase has always been an important place for the modern military," he said.
"During World War I, half-a-million soldiers lived on this site; it was effectively a miniature town.
"The site tells the story of Cannock Chase's involvement in the war and although it will only be exposed for a matter of days, we will use that time to completely scan the entire area.
"Once that is completed, the town can be recreated on computer.
"The possibilities this brings are huge.
"It means that students, scholars and other interested parties will be able to effectively 'walk' these streets again.
"The fact that it has survived with such minimal damage is quite a rare thing in itself."
Excavation on the site is expected to be completed by the end of September and it will be covered over again the following month.