Extra Stafford hospital consultation meetings organised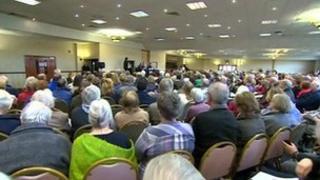 Extra meetings on the future of Stafford Hospital will take place after concerns were raised by NHS managers.
The North Staffordshire Clinical Commissioning Group (CCG) said it felt administrators had not consulted widely enough about plans to move services.
Births and some emergency surgery could be relocated to the University Hospital of North Staffordshire (UHNS).
The two extra meetings will be held in Stoke-on-Trent and Newcastle-Under-Lyme later this month.
Trust Special Administrators (TSA) announced recommendations on 31 July for Stafford Hospital to be part of UHNS, with Cannock Hospital becoming part of the Royal Wolverhampton Trust.
The plans were formed after the Mid Staffordshire trust went into administration on 16 April.
Consultation into the plans finishes on 1 October.
'Debated and scrutinised'
The TSA has so far held six meetings to get people's views but the CCG said it was worried that they had only been held in south Staffordshire.
Newcastle-under-Lyme Borough Council has confirmed it will host a public meeting on 23 September.
Leader Gareth Snell said: "Stafford Hospital and UHNS are likely to see significant changes as a result of the administrators' consultation.
"It's important that any proposals which affect the provision of existing services for the people of North Staffordshire are debated and scrutinised thoroughly."
Mr Snell said he was hopeful the TSA would attend, but all views from the meeting would be presented to them by the council.
Administrators have previously confirmed they will be at another consultation meeting, organised by campaign group North Staffordshire Healthwatch, at the Mitchell Arts Centre in Hanley on 17 September.
They said people who were outside the trust's catchment area were also able to respond to consultation via their website.