Telford Denso car parts factory to create 140 new jobs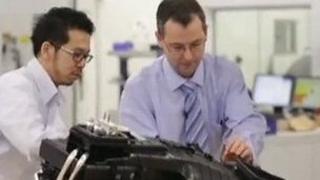 A Telford car parts factory has said it will create 140 jobs over the next 12 months in response to growing business.
Denso, which has its UK base on the Hortonwood Industrial Estate, has contracts to make parts for BMW, Jaguar Land Rover, Honda and Toyota.
The news was released as the government skills minister Matthew Hancock toured the factory on Thursday.
The additional jobs will take the total number of its workers based in Telford to about 850.
Julian Nicholas, from Denso, said it was investing as companies like Jaguar Land Rover expand in the market.
'Fantastic news'
He said: "The JLR contact to us was worth £37m last year and has grown year on year since Tata have taken it over, so we see them as a significant player for us."
Councillor Bill McClements, Telford and Wrekin Council's member for finance and enterprise, said: "It is fantastic news for both the company and the local workforce.
"We will do all we can to support Denso in delivering this investment and increase in jobs, and it all reflects that Telford is very much the place to be, the place to invest."
Japanese firm Denso established its first European base in 1973, creating Denso Manufacturing UK (originally known as Nippon Denso) in Telford in 1990.
Denso operates in more than 30 countries and employs about 120,000 people.
In January, it took over fellow Japanese car part maker Shimizu Industry UK (SI-UK), based in Welshpool.