Chase parking cost cut to build on Christmas boost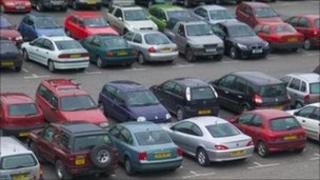 Plans to slash parking charges in a bid to boost trade after Christmas are "a gamble", a council has said.
Cannock Chase plans to cut parking charges from 90p to 10p an hour after Christmas in two towns to build on the festive shopping peak.
The six-month trial in Cannock and Rugeley will cost the council £8,000.
Council leader George Adamson said both town centres have fewer empty shops than in previous years, but are still "struggling a bit".
"We are taking a gamble, as speaking with other councils in the country who have trialled this, we have found some saying it worked, others saying it did not," he said.
The news comes on the back of council announcements that they are predicting a £30,000 shortfall in parking income for 2013.