Spode pottery site revamp completed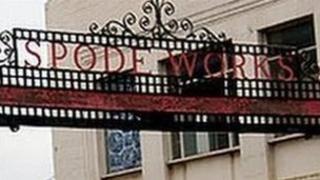 Work has finished on a refurbishment of the historic Spode pottery works in Stoke-on-Trent.
The revamp included repairs to brickwork, windows, gates and lamps around the grade II listed entrance.
The work has been completed by the city council, which has owned the 10-acre site since 2010.
Other work over the last three years has seen structural repairs as well the refurbishment of the china hall and visitor centre.
Councillor Ruth Rosenau, responsible for regeneration, said the latest "painstaking" refurbishment would help regenerate the whole area.
She said: "The factory is an important part of both the face of Stoke town and the heritage of the town.
"This work will make sure it is preserved for future generations to enjoy and appreciate.
"We hope it will encourage local shop owners to invest in their premises as part of a strategy to continue to revive the Stoke town high street."