'Hidden' garden at Biddulph Grange, Staffordshire, opens to public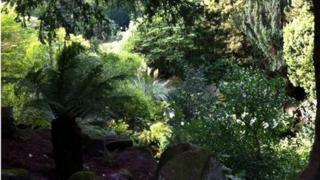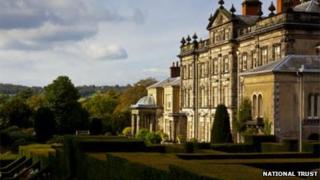 A "hidden" rock garden in Staffordshire has been opened to the public for the first time in 20 years.
The Himalayan Glen at Biddulph Grange, a National Trust garden, had been closed for health and safety reasons.
But a £10,000 restoration project has seen the rock and fern garden, which was designed by Victorian horticulturist James Bateman, reopen.
"It's a fabulous area and it's hardly been seen for years," said garden manager Paul Walton.
'Hidden away'
The garden opened briefly in 1991, when the National Trust first opened the property to the public.
However, the glen could only be accessed via a bridge which was deemed unsafe by the trust, so the area closed shortly afterwards.
A donation from a member of the public allowed the trust to replace the bridge, clear pathways and restore a fern bank.
"It is a shame it has been closed off for so many years," said Mr Walton. "James Bateman put a lot of effort into developing this area.
"A lot of the huge rocks came off the Staffordshire moorlands. We're quite excited about opening it up. It's a bit hidden away and it offers fabulous views to other areas of the garden.
"You can't see it from anywhere else in the grounds. We have a lot of visitors come back to reception to say they can't find it."
Mr Walton said a team of gardeners and volunteers had spent a long time working on the garden to get it ready for the public.
"A lot of paths were covered over so we had to do a lot of pruning," he said. "We wanted to keep the character of the area but make it safe for visitors to come in."