No action over Staffordshire Police's Twitter naming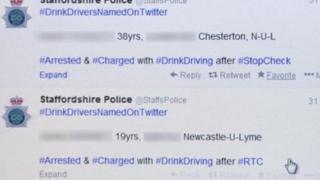 No action will be taken against a police force that tweeted the names of people charged with drink driving, the Information Commissioner's Office (ICO) has said.
It launched an investigation into Staffordshire Police following a complaint about the tactic, which was used in a Christmas campaign.
The ICO said it was happy with assurances the force had given them.
Staffordshire was one of two Midlands police forces to use the tactic.
The other, West Midlands Police, was not investigated.
'Presumption of guilt'
During the campaign, in December, Staffordshire Police named 86 people charged with drink driving on the its Twitter account.
The ICO said it had received an assurance from Staffordshire Police that it would not use the hashtag #DrinkDriversNamedOnTwitter in future campaigns.
An ICO spokesperson said: "Our concern was that naming people who have only been charged alongside the label 'drink-driver' strongly implies a presumption of guilt for the offence.
"We have received reassurances from Staffordshire Police the hashtag will no longer be used in this way and are happy with the procedures they have in place.
"As a result, we will be taking no further action."
Staffordshire Police declined to comment.