Trentham residents seek to take over local library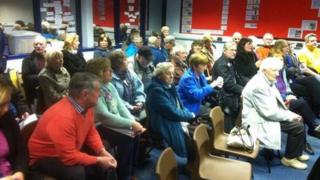 Residents are hoping to take over their community library after Stoke-on-Trent City Council decided to close it to save money.
Campaigners in Trentham want to assume responsibility for the library under an asset transfer from the council.
About 60 residents attended a public meeting in the town on Monday evening to discuss the plans.
The Labour-run council approved £20m worth of budget cuts in February.
The library is due to shut on 29 March, the council said.
'Community hub'
"The library is not only a book lending service, it's a place where people can meet, use the computers, it's a focus on a Wednesday morning for the toddlers' reading group," campaigner Val Samways said.
Local councillor Peter Haywood, who chairs the Trentham Centre Association, which was formed in response to the closure, said the aim was to retain the existing site as a "community hub".
"This is the only asset the city council has got in the ward apart from schools. Once this is gone, there will be nowhere the community can meet up.
"In two years' time we would like to think the site as it stands at the moment is operating at least five days a week," he said.
If the campaigners are successful, the library would be run entirely by volunteers, they said.
A council spokesman said talks were ongoing over a potential asset transfer.
He added that if the plans were unsuccessful, a "local book loan provision on a smaller scale" could be provided.
That provision would not involve keeping the existing building open, he said.