Missing cat Jesse returns to owners after eight years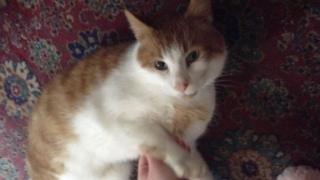 A cat has been reunited with his owners, eight years after going missing.
Jesse, a ginger and white cat, ran away from his owners, who live near the Staffordshire-Cheshire border, in May 2006 during a trip to the vet.
However, on 28 February the vet rang Jesse's owner, Lesley Corbett, from Mow Cop, to say her cat had returned.
Mrs Corbett said she had no idea where Jesse had been for eight years but added she had never given up hope.
'Running hell for leather'
She said Jesse had disappeared during a routine visit to the vet, in Congleton, when he was 18 months old.
"He hurled himself at the front of the cat box and broke the door off," she said.
"He was last seen heading off up by the side of the vet's and running hell for leather."
She said the family had tried searching the town for Jesse by rattling his food container. "We hoped he might come out to us, but he didn't," she said.
"At the time we lost him people came out with all these stories of cats finding their way home after months of being lost.
"We always hoped he was being looked after somewhere and, at some point, he might find his way back home."
She said the vet had been able to trace Jesse because he had been microchipped.
When the vet contacted her to say he had returned she felt "a bit shocked, to say the least".
Mrs Corbett said Jesse was now being "spoiled rotten" at home.
"We have absolutely no idea where he's been," she said. "All we know is he's happy and healthy."
Charter Veterinary Surgeons, in Congleton, said a client had brought them the cat after he noticed it "hanging around".
"We have never heard of a cat go missing for that long before," said receptionist Gemma Tranter.