Gayton Mill Weir removed to help fish migrate along brook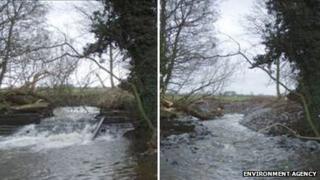 A weir that was preventing fish from migrating in Staffordshire has been removed by the Environment Agency.
Gayton Mill Weir has been removed as part of a project to revive a "failing watercourse", the agency said.
The work has been carried out in partnership with Staffordshire Wildlife Trust.
Three weirs have been removed in the area since 2013, the agency said, to "allow fish to migrate throughout the whole watercourse".
Nick Mott, from the trust, said: "Significant progress has been achieved for wildlife and water quality."
Gayton Brook, near Stafford, will now be included in future fish surveys to judge the success of the project, the agency added.