Mother labelled 'tramp' for breastfeeding in public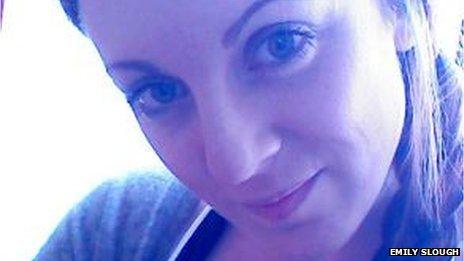 A mother from Staffordshire has launched a breastfeeding protest after being called a "tramp" on Facebook for feeding her baby in public.
Emily Slough started her campaign after finding a photograph of herself feeding her daughter had been posted online.
Her campaign has now attracted 8,000 "likes" on Facebook and more than 1,000 people are expected to attend a mass breastfeeding event she has organised.
The National Childbirth Trust (NCT) said the comment was "dreadful".
Ms Slough, 27, from Rugeley, said she had "discreetly" stopped to feed her eight-month-old daughter Matilda during a shopping trip on Friday.
"I think somebody from the bar across the road from where I was feeding Matilda took a photo of me and posted it on Facebook, along with a caption saying I was a tramp," she said.
"One of my friends messaged me to say they had seen it.
"I'm not the sort of person to get upset by things like that. At first I was just going to ignore it, but then I decided to make an example of it."
Ms Slough said she had been "bombarded" with messages since sharing the picture on Facebook.
"Most of them have been positive but some people have told me I need to be more dignified and breastfeed in a public toilet," she said.
"That's exactly the kind of attitude I want to squash."
Local businesses - including the bar where it is believed the picture was taken - have backed Ms Slough's campaign.
She said she expects more than 1,000 people - including 150 breastfeeding mothers - to turn out at a protest event she has planned for Rugeley town centre on Saturday.
Similar events by other supporters are planned to take place in York and Swansea.
Belinda Phipps from the NCT said: "Any mother who chooses to breastfeed her baby should have the right to do so without harassment."
Related Internet Links
The BBC is not responsible for the content of external sites.