Staffordshire University's £200m plan for Stoke-on-Trent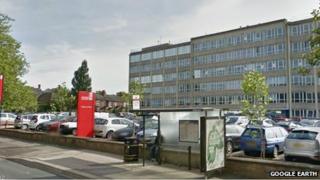 Plans have been revealed for a £200m project to improve Staffordshire University's Stoke-on-Trent campuses.
A city council report shows plans for new education centres and accommodation at the university's College Road and Leek Road sites by 2029.
More than 2,900 students and 350 staff are to be relocated to Stoke-on-Trent from the Beaconside campus in Stafford, which will close by 2016.
About 11,500 of the university's students are already based in the city.
The plans include refurbishing the Cadman and Mellor buildings in College Road and building new facilities on the College Road car park.
Pedestrian walkway
A new library, performing arts centre and sports facilities could also be built, the report said.
The city council said it would not offer any direct financial support to the university, but it intended to spend £5m improving the area around the two campuses.
That would include building a pedestrian walkway, which would link the sites, and landscaping the area around Stoke-on-Trent railway station.
The university has invested more than £42m in its College Road and Leek Road campuses since 2011, including the construction of a new science centre.