David Cameron in National Memorial Arboretum funds pledge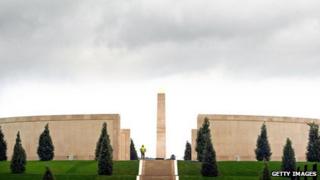 The prime minister has pledged to continue financial support for the National Memorial Arboretum.
It was revealed this week the site, in Alrewas, Staffordshire, would not receive a grant-in-aid from the Ministry of Defence next year.
But Mr Cameron said there should be "no doubt" government funding would continue for the "important" landmark.
Conservative Party vice-chairman Michael Fabricant earlier branded the grant cut a "national disgrace".
'Strong support'
Mr Cameron said he had been "moved" by his visits to the memorial and pledged to back it for "years to come".
"No-one should be in any doubt that this government and this prime minister strongly support the arboretum," he said.
"I'm confident if the National Memorial Arboretum continues to need support it will continue to get support."
The 150-acre remembrance site contains the National Armed Forces Memorial, which bears the names of thousands of British military personnel.
Currently, the arboretum is part-funded by the MoD, Royal British Legion and donations.
Government funding was due to expire in 2013 but the arboretum received £625,000 - to last two-and-a-half-years - from a fund created using Libor fines.
The MoD said it provided additional money to preserve the Armed Forces Memorial.