Judicial review sought over Stafford hospital services move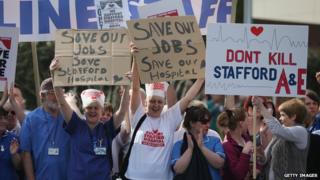 A call for a judicial review of the decision to move services from Stafford Hospital to other NHS trusts has been made by a group of councillors.
Plans to downgrade maternity services, paediatrics and critical care were confirmed by the Health Secretary Jeremy Hunt in February.
The Labour group on Stafford Borough Council wants the authority to fund a legal challenge to the decision.
The government said its conclusions were made after extensive consultation.
Leader of the Labour group, Jack Kemp said: "The decision to downgrade these services will severely damage the town.
"Its population is growing, we have the Army moving here soon and we can't make do with what will effectively be a cottage hospital."
'Uncertainty and failures'
Mr Kemp said he wanted the judicial review to examine "in more detail" why the decision to dissolve the Mid Staffordshire NHS Trust was made.
"Mid Staffs' past reputation was used as a stick to beat it with and not enough attention was paid to how the hospital is working now, which is very, very well," he said.
The trust was criticised in February 2013 in a public inquiry headed by Robert Francis QC for causing the "suffering of hundreds of people" in its care between 2005 and 2008.
A Department of Health spokesperson said: "Administrators were appointed to Mid Staffs after an independent team concluded the trust is not clinically or financially sustainable in its current form.
"The administrators are independent of government, and the Secretary of State confirmed he was satisfied with their recommendations in line with the requirements set out in legislation.
"The proposed changes will secure the safe and high-quality services that the people of Stafford deserve, following years of uncertainty and failures in care."
The council will vote on whether to back the judicial review at a meeting next week.