Staffordshire B&B sink hole filled in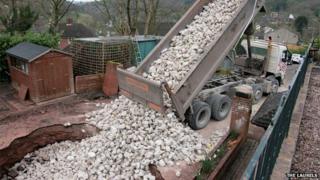 A sink hole that opened up next to a Bed and Breakfast in north Staffordshire has been filled in.
The hole first appeared outside The Laurels, in Oakamoor, on Thursday morning and grew to more than three metres (10 ft) wide.
It followed drilling work at the property last week to check damage caused by a nearby landslide last year.
B&B owner Phil Tester said the hole had now been filled in with about 140 tonnes of rock.
Specialists in mine shaft work are expected to inject the rocks with concrete, before laying a concrete cap on the top.
'Nightmare scenario'
Despite the work completed, Mr Tester said the business was not expected to reopen until October.
The sink hole is one of a series of set-backs suffered at the property since a landslip in the area in December.
In January, the Health and Safety Executive stopped work on a nearby site, unconnected with the B&B, being excavated for redevelopment.
Engineers are now attempting to find out what caused the hole to appear.
Mr Tester said his family was still awaiting news of the full costs connected with stabilising the land, following the landslide, and whether their insurance would cover it.
"As you can imagine, that's keeping us awake at night," Mr Tester said.
"It's gone from a nightmare scenario around the hole to just one of worry".
One thing their policy is covering is the loss of earnings by the B&B.
Mr Tester said he and his wife were using the time to refurbish some bedrooms and explore the local area.