Record bid forces Drayton Manor theme park to close gates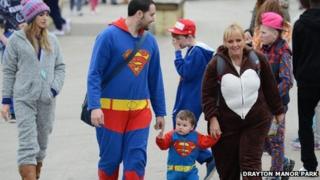 A theme park was forced to close its gates after thousands turned up for a world record attempt.
Drayton Manor in Tamworth, Staffordshire, cut ticket prices in a bid to get the largest gathering of people in one-piece pyjamas.
It attracted 3,152 people in onesies, breaking the previous record of 1,184 set by Ringwood School in Hampshire.
A spokesman confirmed the gates were shut around 12:30 BST but said no-one was physically turned away.
Chief Executive Colin Bryan said closing the gates, which did not reopen, was unavoidable because they were limited by how many people could get into the park.
"It was £5 to get in last year and we didn't have this many people turn up," he said.
"This year the marketing team has done their job."
Adult tickets normally cost £36 when bought on the gate.