Tenfold rise in scarlet fever cases in Staffordshire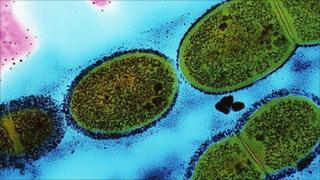 Advice about scarlet fever is being sent to Staffordshire schools after a tenfold rise in cases in the county.
According to the county council, 10 times the number of people have contracted the disease since January compared with three years ago.
In addition, there were 94 cases between September and April, the highest in the West Midlands.
The authority is now sending letters to schools and parents telling staff what to do if the disease is suspected.
Most cases of scarlet fever are mild and can be treated with antibiotics, but there can be complications.
'Sharp rise'
There is no vaccine for the disease, which is most common between children aged between two and eight.
It is characterised by a rash, sore throat, high temperature, swollen tongue and flushed cheeks.
Earlier this month Public Health England reported 883 new cases of scarlet fever across England in one week - the highest weekly total for more than 30 years.
Dr Alison Teale, a public health consultant with Staffordshire County Council, said: "Scarlet fever is a seasonal illness and Public Health England is investigating to see if there is an underlying cause for this unexpected sharp rise in cases."