Stafford Hospital: MP calls for paediatrics review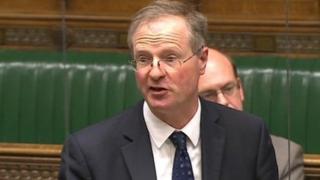 A Staffordshire MP is calling for the government to review the decision to downgrade children's services at Stafford Hospital.
It was revealed on Friday that a report produced as part of the Trust Special Administrators (TSA) process had important patient figures missing.
Stafford Conservative MP Jeremy Lefroy said plans should be reconsidered using "the correct information."
The TSA said the final report sent to the government "was accurate".
Proposals to downgrade maternity services, paediatrics and critical care were confirmed by the Health Secretary Jeremy Hunt in February.
Mr Lefroy said he had written to Mr Hunt to get the decision to downgrade children's services and paediatrics looked at as a "matter of urgency".
He said: "The best course of action would be for the review into consultant-led maternity services by NHS England, commissioned by him, to be widened to include all children's services currently provided at Stafford.
"I consider that it is essential to put the correct information to the Clinical Advisory Group (CAG) and give it ample opportunity to reconsider its conclusions based upon the new figures."
In a statement, the TSA said "more up-to-date" information was included in the revised version of the Service Specification Document for Paediatrics report, which was produced in February.
It said the figures in the final report, which the secretary of state read before making his decision, were "100% accurate".
Stafford Borough Council has agreed to fund a legal challenge to the downgrading of services at the hospital, which was hit by care scandals over deaths between 2005 and 2008.