Stafford Hospital: Maternity plan 'timing unacceptable'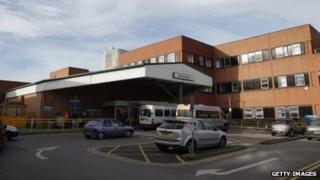 Downgrading Stafford maternity services ahead of a David Cameron-inspired review would be unacceptable, the prime minister's health policy adviser said.
Nick Seddon was responding in an email to concerns University Hospital of North Staffordshire intended to turn Stafford into a midwife-led unit soon.
In February, Mr Cameron announced inquiries to see if keeping consultant-led maternity services was possible.
NHS England is not scheduled to finish that review for at least a year.
The Mid Staffordshire NHS Trust is due to be dissolved later in the year, with University Hospital North Staffordshire (UHNS) taking on the management of Stafford Hospital, while Cannock Hospital will transfer to the Royal Wolverhampton NHS Trust.
UHNS chief executive Mark Hackett is conducting his own review of maternity services at Stafford.
'Not acceptable'
An authenticated email obtained by the BBC claims UHNS is working to implement the midwife-led unit before the NHS England review is completed.
Mr Seddon said in response: "Manifestly not acceptable if you are right."
In a statement, Mr Hackett and UHNS chairman John MacDonald, said: "We have always been clear that it is neither clinically nor financially viable to deliver a consultant led obstetrics service in Stafford.
"[That's] a view shared by the Trust Special Administrators (TSAs) in their final report, which was approved by Monitor.
"All our discussions with the TSAs have therefore been based on the agreed clinical model, which included the provision of a midwife-led unit."
UHNS's own review of maternity services is due to be presented to the trust board in May.
In the meantime, it said it would continue with plans for integration "based on the TSAs' clinical model incorporating a midwife-led unit".
Three senior NHS sources have now told the BBC that on 25 February, the night before Health Secretary Jeremy Hunt's pronouncement on the future of Stafford Hospital, the decision was still to downgrade maternity to a midwife-led unit.
Stafford Conservative MP Jeremy Lefroy said: "I think there was a debate at the highest [political] levels about this. The prime minister has been supportive of consultant-led maternity at Stafford and indeed around the country."
In February, Mr Hunt said the decision to dissolve the Mid Staffordshire Trust and transfer Stafford to UHNS would "secure the safe and high-quality services that the people of Stafford deserve having endured years of uncertainty and failures in care".